I CARE
The FBI classifies San Diego, our fine city, as one of the top cities for sex trafficking of children in the nation. Studies indicate there are more than 3,000 and possibly as high as 8,000 sex trafficking victims every year in San Diego.
I CARE expands our support to youth up to age 21 who are at risk for or have experienced sex trafficking or other commercial sexual exploitation. The program provides a mental health clinic and a drop-in center.
I CARE provided services to 119 youth and community training to 2,000 individuals during the past year. Highlights included training youth, parents, educators and service providers at Grossmont Union High School District, San Diego Unified School District, California State University San Marcos and San Diego State University, as well as organizations such as Jewish Family Service.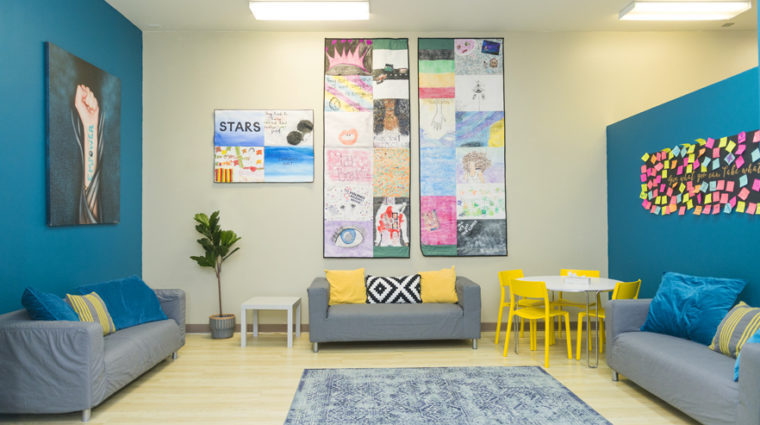 Mental Health Services
I CARE mental health services include individual and family therapy, 24-hour support and medication evaluation, treatment and management. Community training on commercial sexual exploitation is also available.
Mental Health: Provides individual and family therapy for youth up to the age of 21 who are at risk or currently involved in commercial sexual exploitation. Staff provide home and community-based services.
24-Hour Support: Ensures staff are always available by cell phone to respond to a crisis.
Psychiatry: Includes medication evaluation, treatment and management in conjunction with therapy.
Community Training: Training is available on commercial sexual exploitation. Training is tailored to the requesting party's needs.
Drop-in Center Services
I CARE Drop-in Center offers skill development workshops, support groups, leadership opportunities and social activities that support healing. The program offers specialized case management to help youth identify goals and create support around recovery, as well as education, employment and peer support services.
Case Management: Offers specialized case management services that help youth identify goals and create support around recovery and increasing self-sufficiency.
Education Services: Provides individual and small group support for CSEC youth to obtain educational support through services such as IEPs, academic mentoring and college prep.
Employment Services: Provides individual and small group coaching and support services to help CSEC youth identify, obtain and retain opportunities that can help them increase their capacity for economic self-sufficiency and success.
Peer Support Services: Using lived experience, Youth Support Partners offer a voice, perspective and validation to survivors and help improve social functioning, reduce substance use and improve overall quality of life.
Family Support Services: Provides services to caregivers of youth who are at risk or have experienced commercial sexual exploitation. Services include individual support and parenting support groups.
Contact
Confidential location.
(619) 521-2250 x3816
Clinic Hours
Monday-Friday, 9am – 6pm
Drop-in Center Hours
7 Days a Week, 12pm – 8pm
Referral Form | Download and share our brochure
See also:
– National Human Trafficking Awareness Month
More Resources
– 10 Facts About Sex Trafficking
– Sex Trafficking Warning Signs
Local Resource Guide: 
Our newly updated and comprehensive listing of local resources for survivors of commercial exploitation of children (CSEC) and sex trafficking.
– Resources for CSEC and Human Trafficking Survivors
– Recursos Para Sobrevivientes De Trata De Personas Y CSEC
"I love having a place that I can hang out at surrounded by people that can help support me and help me figure out what my goals are" - Survivor, Age 16