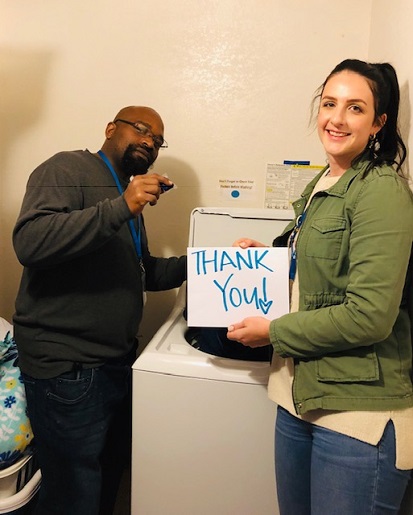 We are celebrating the gift of a new washing machine from FOCUS for our Youth Emergency Shelter, which is the only emergency night shelter for homeless and runaway youth in San Diego County.
Pictured are Taylor Houston, Night Shelter Coordinator, and Katie Rademacher, Health Educator/Prevention Outreach Worker providing a thank you to FOCUS, which stands for Friends of Children United Society. FOCUS has been a long time supporter of the shelter by providing snacks, kitchen items and most recently the washing machine to help our youth have clean clothing and learn the fundamental independent living skills necessary to keep up with their hygiene.
Learn more about the Youth Emergency Shelter.