Unsheltered youth on their own make up 12 percent of the county's total homeless population of 8,102.
That's higher than veterans at 10 percent and families at 3 percent. We are addressing this crisis.
We provide safe places to live and long-term solutions through shelter, community centers and housing. Last year, we provided shelter and transitional housing to 752 youth.
Street Outreach meets and engages runaway and homeless youth across San Diego County, connecting them with resources and providing help to meet basic needs, such as transportation to shelter, housing referrals, hygiene items, food and blankets.
Our TAY Academy serves as a centralized hub for resources and services relating to job-readiness training, case management, education, mental health and housing for Transition Age Youth (ages 14-25), including foster youth, former foster youth, out-of-home probation youth and homeless and runaway youth.
The Transitional Housing Continuum provides affordable housing, independent living skills training and supportive services to break the cycle of homelessness and create hope and self-sufficiency for youth ages 16-24 transitioning into adulthood.
Our Youth Emergency Shelter is the only emergency night shelter program and drop-in center in San Diego for homeless, runaway and "street" minors, providing a safe home and services to help youth return to their families or find alternative housing.
Call for our 24-hour Crisis Hotline and Eligibility Screening for our emergency night shelter and drop-in center.
Transition Age Youth (14-25) may access services at the TAY Academy Drop-In Center.
Hours: Tuesday – Friday, 11pm – 3pm
Youth Emergency Shelter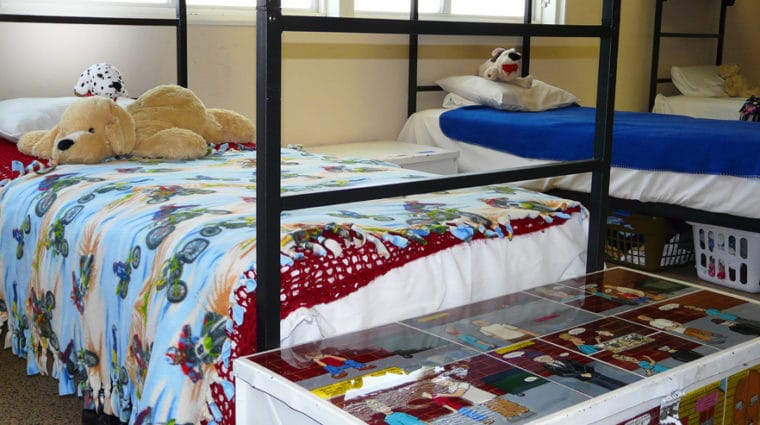 Our Youth Emergency Shelter provides shelter and other vital services for youth ages 12 to 17 who have no safe living arrangement or are victims of physical or sexual abuse, neglect, child abuse or exploitation.
Download and share our brochure
Our shelter is the only emergency night shelter in the county for homeless and runaway minors on their own. Formerly known as Storefront, the shelter opened in 1986 as one of the first in the nation to address the escalating crisis of homeless, runaway and exploited youth.
More than 1,500 youth are homeless in San Diego. The reported number of homeless youth is also likely an undercount. Homeless youth tend to hide and have a harder time accessing services, including shelter and medical care.
Last year, the shelter provided a safe place to stay for 107 homeless, runaway and street youth and outreach services to 242 youth.
The Youth Emergency Shelter also includes a drop-in day center. It's a voluntary program designed to prevent the victimization and sexual exploitation of homeless and runaway youth. The program helps youth return to their families or find safe, alternative housing.
The shelter offers safe housing, showers, laundry facilities and breakfast and dinner served family style by community volunteers. Evenings in the night shelter are structured and include at least one group activity, such as independent living skills education, art therapy and recreation.
The drop-in center provides computers for schoolwork and employment searches and offers daytime recreational activities and a variety of skill-building groups.
Services
24-hour Crisis Hotline
Night Shelter
Drop-in Day Center
Case Management
Independent Living Skills
HIV/STI Health Education
Facilitated Referrals
Expressive Arts Therapy
Eligibility
Telephone screening is required before acceptance into the shelter.
24-hour Crisis Hotline and Eligibility Screening
(866) 752-2327
OR (866) Place-2-Stay
Confidential location
TAY Academy
TAY Academy is a safe, inclusive, youth-led HUB for Transition Age Youth (TAY). It provides trauma informed services to youth ages 14-25. TAY Academy is a one-stop center for comprehensive services to support youth on their journey to independence and self-sufficiency.
Last year, youth made nearly 2,374 visits to TAY Academy. Youth from all interest groups and cultural backgrounds are welcome.

Support provided for:
Addressing basic needs
Alcohol and drug misuse
Artistic self-expression
Healthy relationships
Life skills
Resource linkage
Safe coping skills
Sexual health
Services
Drop-in Center offers: Access to basic needs including food, hygiene, showers, laundry, small limited storage. Information and referral services. Skill development workshops, computer lab, expressive art, resource linkages and goal planning support.
Street Outreach offers: Resource information, shelter transportation and case management for runaway youth and youth experiencing homelessness, up to age 21.
TAY Housing offers: Short-term housing assistance to youth ages 18-24, who have been the victim of a crime and are working toward stable independent housing.
Urban Beats offers: An innovative artistic expression program for TAY who are between the ages of 16 and 25. Engagement in mental health treatment by creating and delivering TAY-focused artistic productions and social media messaging.
Youth Emergency Services offers: Emergency services for youth experiencing homelessness, ages 18-25. Including TAY-focused housing assessments.
Contact
Drop-in Center
2220 Broadway
San Diego, CA 92102
(619) 232-8126
Hours: Tuesday – Friday, 11pm – 3pm
Street Outreach
(619) 232-8126 x3512
TAY Housing
(619) 232-8126 x3515
Urban Beats
(619) 232-8126 x3507
Youth Emergency Services
(619) 232-8126