Q & A on Suicide and Bullying Prevention
Q & A on Suicide and Bullying Prevention
Judi Park, Program Manager for our HERE Now and Anti-BIAS programs, talks with us about suicide and bullying awareness and prevention as we transition from National Suicide Prevention Month into National Bullying Awareness Month.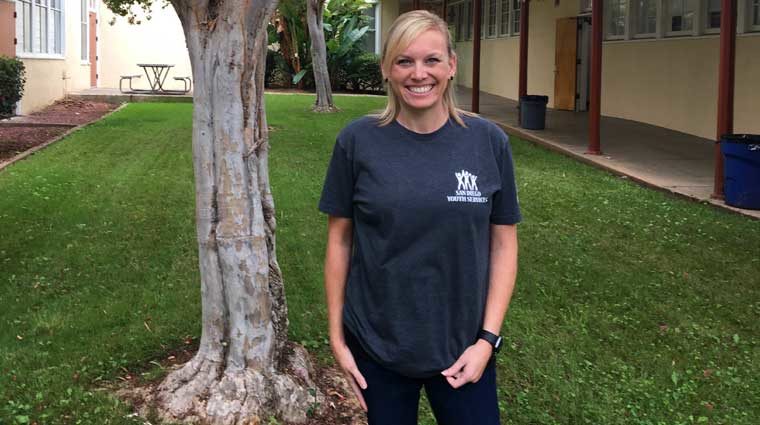 How common is suicide among youth?
It's not as common as for adults but suicide is now the second leading cause of death for youth between the ages of 11 to 18 years old and even one death is significant. Suicidal ideation, the thought of feeling like they want to end their life, is very common. A lot of students don't know how to put their frustrations or stress into words, so warning signs will come out. A lot of students feel hopeless and they don't have resources or coping skills to manage those feelings.
HERE Now and the Anti-Bias programs are school-based. Why schools?
Youth spend most of their day in school. They spend more time at school than they do at home with their families, so they are building these key relationships with their peers, school staff and coaches and those people are often the ones who are going to see the changes.
We also know students will tell their peers before they tell anyone else that they are not feeling safe. We want to equip students with the knowledge of what to do when they hear their friend say this. A lot of students feel it is their responsibility to keep their friends safe and it's not. Their responsibility is just to be there for their friend and we want to equip the students with the knowledge that "You don't need to hold this information. Tell a trusted adult."
What are some of the warning signs?
The obvious warning sign is someone saying, "Life is no longer worth living" or "I don't want to live anymore" – those verbal statements. Withdrawing from friends or activities might be warning signs, but really taking notice of what is normal and what is not normal for that student.
If a student is starting to sleep more and they are someone who doesn't sleep that much, that might be a warning sign. If a student is starting to eat more or eat less, depending on what is normal or not normal for them, that might be a warning sign. Any changes in sleeping patterns or if they are becoming super irritable or easily stressed out, if that is not a normal reaction for them that might be a warning sign. Using drugs and alcohol as a way to cope with stress or trauma may be a warning sign.
What is the intersection or the relationship with bullying?
Bullying is a very big topic in schools right now. Students who are being bullied are feeling hopeless. They are feeling like they don't have anyone to turn to. Maybe they are being bullied by their peers, they may be being bullied by a previous friend and they are feeling like they do not have any support system in school. They can feel very helpless and hopeless and that's where we do see a connection to suicidal ideation and the students who are bullied.
How do the HERE Now and Anti-Bias programs work together?
Our videos talk about two bullying scenarios – in the middle school scenario the students are talking about being bullied online or cyber bullying and in the high school scenario, a student is threatening others and his self.
After the videos, we always ask students what the definition of bullying is and then we give them the true definition and we talk about the different types (cyber, physical bullying, social bullying and verbal bullying) and what to do if you are concerned. It's the same message for both programs:
ACT. Acknowledge Care Tell
Acknowledge something is going on with their friend
Let their friend know that they care
Tell a trusted adult about the bullying
How common is bullying?
It's very common. The students don't always know the true definition of bullying – a repeated and unwanted action by someone that has more power or perceived power than the other person.
Students will say they are bullied often. In fact, they probably are and it's working with students to tease that out to make sure it doesn't happen again. How do we build you up? How to stop, block and tell if you are being bullied online or making sure you are not still friends with those people online, maybe staying off social media for a bit, making sure you tell a trusted adult.
What are some of the things a student can do if they are being bullied?
Tell a trusted adult. Let someone at their school know what is going on. Make sure they do not put themselves in situations that are dangerous and that they remove themselves from situations where it happens, but first and foremost tell someone. Don't hold that information. Reach out to someone, if you need help.
Is suicide preventable? What can someone do to help?
Absolutely. 100 percent. First and foremost, reducing stigma and making sure people feel comfortable talking about when they are not feeling safe or that they are struggling with something is critical. That's what we can do as a community: work on making it okay for someone to say, "I am not feeling safe right now" or "I am not okay."
If you are concerned and you are not sure what to do, you can call the Access and Crisis Line, 24 hours a day. You can also make an appointment with your primary physician, ask for an assessment of your student and talk about your concerns. If you are really concerned that you cannot keep them safe in the next 24 hours, call 911 and get them the help they need.