The Child Abuse Prevention Coordinating Council recently recognized San Diego Youth Services' HERE Now and Anti-BIAS programs for their work in preventing child abuse. The programs, focused on suicide prevention and anti-bullying, received a Certificate of Appreciation for being a "SHINING STAR in Strengthening Families and Preventing Child Abuse."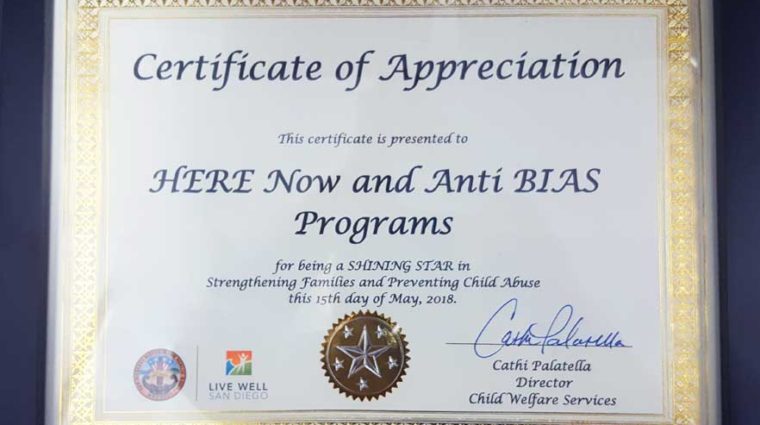 "As many as 25-30 percent of students in various middle and high schools suffer from mental health challenges and SDYS provides a way for families to be able to address these critical issues," said Meredith Riffel, Director of the Santee Collaborative for the Santee School District. Riffel nominated the programs for the recognition.
Collectively, the programs have been implemented in more than 60 schools in 18 school districts to date. The focus is on 7th-12th grade students.
HERE (Helping, Engaging, Reconnecting and Education) Now, in collaboration with North County Lifeline and South Bay Community Services, is designed to prevent youth suicide and suicidal ideation, while helping foster safe schools and creating a safer place to learn in San Diego through suicide and bullying prevention education.
Anti-BIAS (Anti-Bullying, Intervention and Advocacy Supports) is a sister program that works with the families and victims of bullying. It helps youth and families learn new coping and parenting skills that prevent increased bullying and abuse from others. Many times, a victim has also become a bully and Anti-BIAS allows the youth to develop needed skills that will prevent them from bullying or being a victim as they grow.
"We catch a lot of things never reported before by doing assessments and giving resources to the students," said Judi Park, HERE Now and Ant-BIAS Program Manager. "There are a lot of things students are not comfortable talking about. Our staff are giving them tools to help and a voice to say, 'I'm not okay and that's okay.'"