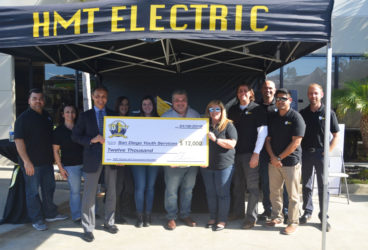 We are honored to be one of three charities selected by HMT Electric to benefit from the 1st HMT Charity Golf Tournament. This first tournament marked the company's 10th anniversary.
Thank you to HMT Electric President Brian Hudak and all of his team and clients for your generous donation of $12,000. Congratulations on your 10-year anniversary, HMT Electric! What a wonderful and charitable way to celebrate your success.
Your support will help us continue providing vital services for more than 19,000 homeless and at-risk youth throughout San Diego County this year.
Al Bahr Shriners and One More Wave also received donations.