Join Our Team
San Diego Youth Services is an Equal Opportunity Employer. As an organization, we believe that, in order to ensure a maximum quality of life, all persons should be given the opportunity to be exposed to, and learn about, the differences in humanity that bring a richness and unity to life. It is our intent to have staffing that reflects the ethnic makeup of the community.
Our staff has the opportunity to participate in events that are celebrated by the many communities that make up San Diego. The administrative reception area proudly displays trophies and plaques awarded for entries in the Cinco De Mayo, Gay and Lesbian Pride, and Martin Luther King, Jr., parades. Staff workdays throughout the year are punctuated by celebrations that feature the different cultures of the larger community.
Our management encourages participation at all levels, from our youth clients, community members and employees to our Board of Directors. Our staff has the opportunity to gather together to build their team and to set the agenda of their programs.
San Diego Youth Services encourages its staff to work within a social change model, and to utilize a community development approach that empowers the people they serve to be self determinant. We refer to the youth and family clients we serve as "service partners." This simple terminology represents the agency's fundamental view that all clients play an active role in meeting their own needs. The work of our staff facilitates the ability of service partners to determine their own life directions.
Auxiliary aids and services are available upon request to individuals with disabilities. In compliance with the Immigration and Nationality Act as amended, all new employees must verify their eligibility to work in the United States.
Explore our current openings.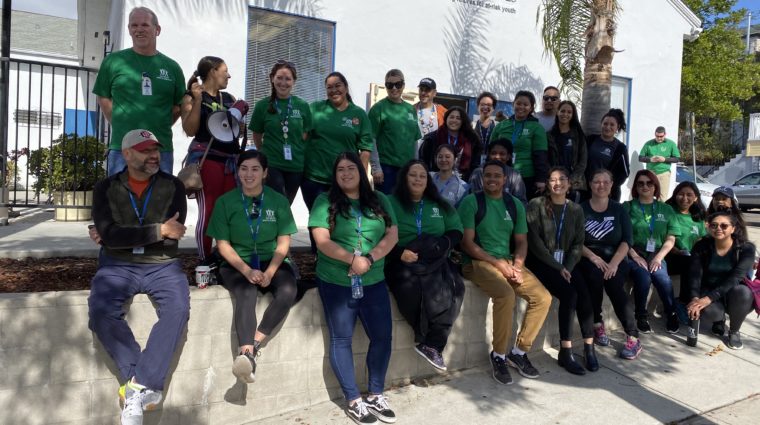 Employee Benefits
San Diego Youth Services offers comprehensive benefits to employees who work regularly at least 20 hours a week.
Leave benefits may include paid-time-off (18 days for the 1st year, 22 days for the 2nd, 27 days thereafter), parental leave, bereavement leave, jury/witness duty leave, sabbatical leave and 13 holidays.
In addition, we provide for a cafeteria-style benefits packet that allows eligible employees to choose from four HMO health insurance plans, a DMO or a PPO dental plan, vision plan, a 403 (b) account (a non-profit retirement savings option) and a dependent-care, expense-reimbursement program.
Employees may also choose to participate in any of the following:
Life insurance
Personal hospital intensive care insurance, personal recovery coverage, personal sickness indemnity plan, personal cancer protector plan
Personal accident expense plan
Personal short-term disability insurance
Direct deposit of paychecks
Furthermore, employees can purchase chocolates and candies at a discount from See's wholesale outlet store, as well as discounted admissions to the movie theaters such as AMC, Edwards, Pacific, Regal and UA theaters. We regularly distribute offers that assist employees in participating in recreational activities at promotional rates such as discount coupons to Knott's Berry Farm, Soak City, Magic Mountain, the San Diego Zoo and Wild Animal Park.
Pre-employment Requirements
Upon hire, San Diego Youth Services may require the following documents/information prior to employment, depending upon the position.
I-9 Employment
Proof of car insurance
Copy of driving record
First Aid/CPR certification
Criminal record verification including fingerprinting
Drug screening
TB test results
Physical examination
Child Abuse Index check
Experience verification
Education and/or license verification
Other as determined by position hired for
Training
San Diego Youth Services is committed to enhancing the professional skills of its employees, consistent with the agency's goals and the employees' job descriptions. In addition to development through on-the-job performance, mentoring and supervision, staff members are recommended to obtain formal training hours as follows:
All direct service positions requiring a Master's degree (including licensed staff, AOD staff, MFT Trainees and MSW Interns): 20 hours/year.
Foster Parents: 12 hours/year.
Child Care Workers: 40 hours/year
Core Staff/Direct Services: 12 hours/year
Management Staff: 12 hours/year
Actual required training hours may vary from the above recommendation depending on the contracts/projects the staff works on.
The agency publishes an annual training calendar on which all in-house training and workshops are listed, as well as selected development opportunities offered in the community. Examples of training topics are
Building bridges with youth
Case management
Coaching skills for managers
Community Care Licensing
Cultural Competency
Harassment and discrimination awareness & prevention training
HIPAA/Confidentiality
HIV/AIDS
Motivational Interviewing
Overview of substance abuse treatment for teens
Seeking Safety
Trauma Informed Care