Hear from Our Staff: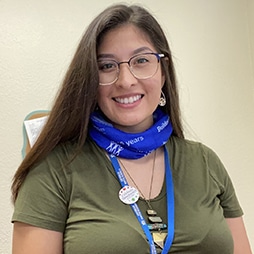 "I enjoy serving the needs of each youth by distributing the donations we receive to all the different programs San Diego Youth Services offers. Nothing gets better than that!"
Monica, Marketing & Development
Interested in making a real change in the lives of San Diego's homeless, runaway and other at-risk youth?
We may have the perfect opportunity for you!
For questions about current job openings, please contact Human Resources at hr@sdyouthservices.org.
Our benefits include:
Comprehensive health insurance
Dental/vision/life insurance
Employee wellness program
Generous paid time off
Retirement plan
San Diego Youth Services is proud to be an Equal Opportunity Employer in accordance with federal and state law. Auxiliary aids and services are available upon request to individuals with disabilities. In compliance with the Immigration and Nationality Act as amended, all new employees must verify their eligibility to work in the United States.
Extra Available Training
San Diego Youth Services offers training throughout the year on diverse topics, including Trauma-Informed Care, Suicide Prevention, Motivational Interviewing and Seeking Safety. Classes are open to all staff, volunteers and members of the community. All classes can be used for continuing education units.
What clearances are required?
Clearances include a background check (regular or CCL), drug screening, Tuberculosis screening, reference checks and driving clearances, if required by program of interest. Clearances are to be paid up front by prospective staff members and are eligible for reimbursement.
Other Ways to Get Involved
Our mission is to empower youth to reach their highest potential. At San Diego Youth Services, we provide safe places to live and long-term solutions through shelter, foster homes, community centers and housing.
You can support homeless, runaway, and other vulnerable youth by giving time or resources.
Your help is appreciated!
Success Stories
Hear from the youth supported by donors like you