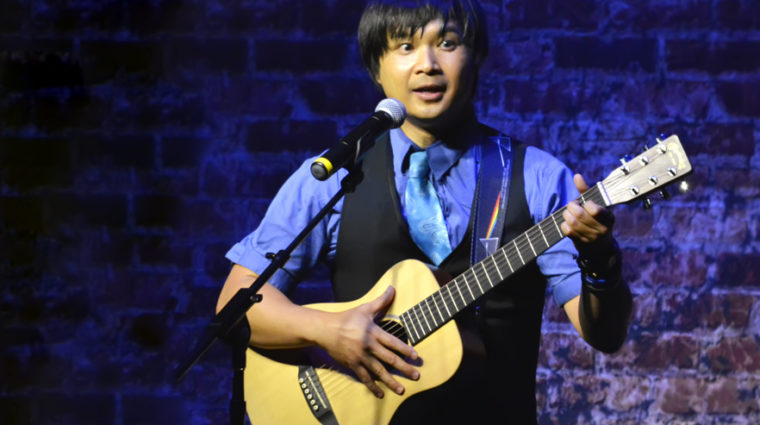 Comedian Dat Phan, the Original Winner of NBC's "Last Comic Standing" and a Headlining Comedian touring live across the country, will be the special guest at San Diego Youth Services 12th Annual Creations in Chocolate event.
The March 8, 2018 event showcases the best in local, skilled chocolatiers while raising funds for San Diego Youth Service's vital work to help homeless, runaway, abused and other at-risk youth and their families. Last year, the organization helped more than 19,000 youth and their families.
Phan, who came to San Diego as a Vietnamese refugee with his mother, combines his energy and unique life experiences in his comedy to create a message of living your dreams and reaching out for the stars.
"I'm very fortunate to do stand-up comedy for a living, but it has been a long, tough journey of self discovery, failing many times, and then learning from those failures," Dat Phan said. "Through trial and tribulation, it began a revolution within my soul."
Phan has made numerous TV and movie appearances including "The Tonight Show with Jay Leno," "The Family Guy" voiceover, and "Cellular." Phan also appeared on "The Tyra Banks Show" speaking about diversity. His new show "Startup" was recently renewed for a second season on Sony's Crackle streaming channel.
His success has not been without struggle. He suffered through financial hardships for most of his childhood. He also lived out of his car at one point in pursuing comedy full time. His career launched in 2003 when he landed a spot on the first season of NBC's Emmy Award-nominated series "Last Comic Standing" and was named the funniest person in America. Phan has also been included in The Smithsonian Institution's exhibition of The Top 10 Most Influential Vietnamese-American Individuals.
Creations in Chocolate is attended by 250 guests, San Diego Youth Services supporters and corporate partners. Ten of the best Master Pastry Chefs and Chocolatiers in San Diego design magnificent chocolate sculptures up to 3 feet in height and bring their best chocolate treats for guests to eat. This culinary delight brings delicious food, jazz, champagne and wine paired to delectable chocolate as part of the charity's annual fundraiser. The event has raised more than $950,000 with past Special Guests: Wyland, Tony Hawk, Bill Walton, Tony Gwynn, Robin Leach, Chef Jeff Henderson, Ryan Mathews, Olympic Gold Medalist Monique Henderson and Trevor Hoffman.