The number of homeless youth under 18 in San Diego County jumped 35 percent from last year's tally, according to results released in May of an annual count led by the Regional Task Force for the Homeless.
The 2018 Point-in-Time Count, known locally as WeAllCount, also found that 27 percent of homeless individuals surveyed said they first became homeless as a youth before age 25.
"These numbers speak to how we need to continue increasing our focus on helping youth," said Walter Philips, San Diego Youth Services CEO and Regional Task Force for the Homeless Board member.
He also noted that the survey found 659 unsheltered youth, the same as the number of unsheltered veterans. The count, particularly for youth, is also often a vast undercount as homeless youth tend to be a hidden population compared to homeless adults.
The federally mandated survey found 8,576 homeless individuals, including 928 homeless and unstably housed youth under the age of 25.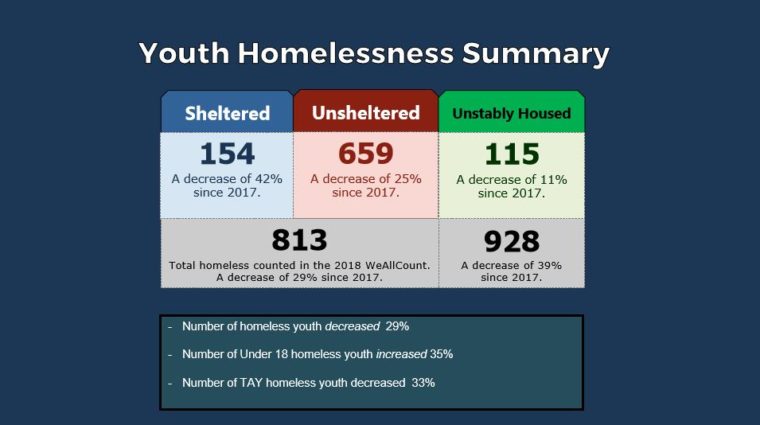 Overall, the 2018 count found the number of homeless youth declined 29 percent, a large decrease particularly for sheltered youth. While some known locations for homeless youth were found empty during the count, Philips said it's too early to tell if the total decline is significant.
"It's a one-year snapshot and it's better to look at three-year trends because there are so many factors," Philips said. "We don't really know why the count is down. There wasn't a big increase in funding for youth homelessness in this community. But it's still nearly 1,000 homeless youth, while the number of housing units available is in the hundreds."
A leader in housing and support services for homeless youth, San Diego Youth Services is preparing to lead a new, comprehensive program for homeless youth in San Diego County.