Program Spotlight: Our Safe Place
One of San Diego's most vulnerable populations, Lesbian, Gay, Bisexual, Transgender and Questioning (LGBTQ) youth, often suffer because of non-supportive or even hostile environments in their homes, schools and communities.
Our Safe Place, our new program, provides mental health services and drop-in centers for LGBTQ youth up to age 21 and their families.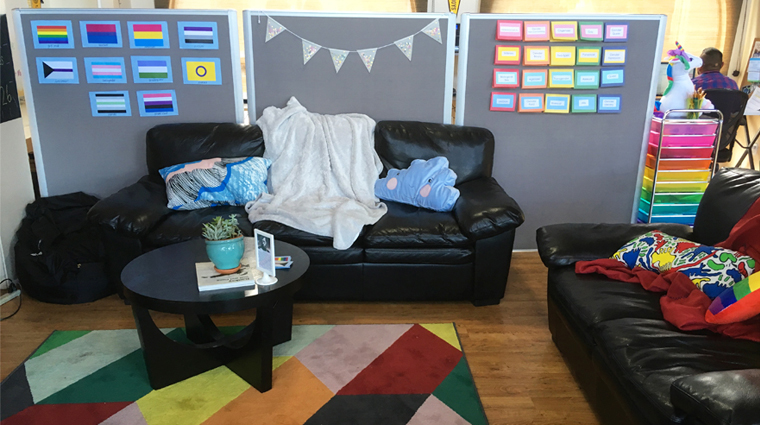 "There is a lot of judgement of what is different than the usual 'norm,'" said Leah Aguirre, Our Safe Place program manager. "LGBTQ youth are more susceptible to bullying, harassment in general and being ostracized from the majority and that's where the risk really increases.
"When they turn 18, a lot of parents also kick them out immediately. About half the youth we have seen have experienced homelessness because of their identity. "
Our Safe Place provides a wide variety of services, including support for alcohol and drug abuse, coming out, depression, family relationships, gender identity, sexual health, safe dating and transitioning.
Our Safe Place is a collaborative program with South Bay Community Services and the YMCA of San Diego County, with each partner providing a drop-in center and San Diego Youth Services also providing a mental health clinic. The program is funded by the County of San Diego Health and Human Services Agency.
Our Safe Place Mental Health Clinic
3427 4th Avenue, Second Floor
San Diego, CA 94103
Monday-Friday, 9am – 6pm
SDYS Central Drop-in Center
2220 Broadway
San Diego, CA 92102
Open 7 days a week
YMCA North Inland Drop-in Center
1050 N. Broadway
Escondido, CA 92026
YMCA North County Drop-in Center
215 Barnes Street
Oceanside, CA 92054
SBCS South Drop-in Center
746 Ada Street
Chula Vista, CA 92911
For more information, please call (619) 525-9903