Walter Hits the Streets for Homeless Youth
Walter Philips, CEO at San Diego Youth Services, is getting set to run 50K to raise $50K and awareness as part of National Homeless Youth Awareness Month.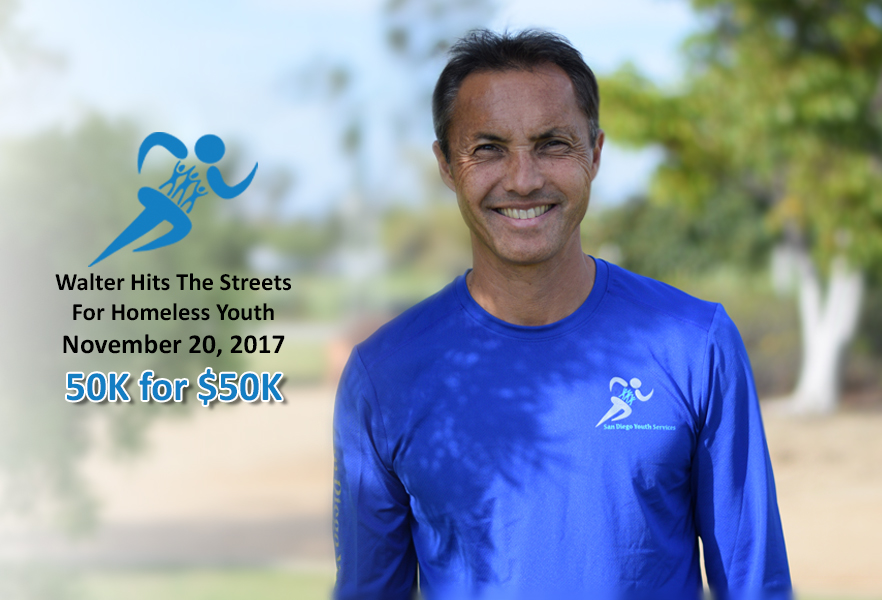 Our Associate Executive Director Steven Jella has accepted a challenge and will join Walter in the run! Other staff and partners may join as well.
> Media Advisory > Post-run UPDATE: SDYS Leaders Run 50K for Homeless Youth
More than 1,100 youth are homeless here in America's finest city. That number is also rising and likely to be a vast undercount. The number of homeless teens and young adults in our county increased 39 percent between 2016 and 2017.
San Diego Youth Services has helped improve the lives of more than 700,000 homeless, runaway, abused and at-risk youth and their families. Every day, we work to fight the tragedies of homeless youth and youth in crisis.
You can HELP. Donate today for Walter's run or pledge per kilometer.
When:
Monday, November 20, 2017
Start Line:
SDYS Point Loma Campus
3255 Wing Street, San Diego, CA 92110
9 am
Finish Line:
SDYS Spring Valley and East Communities Campus (Auditorium)
3845 Spring Drive, San Diego, CA 91977
Approx. 4 pm
The Course:
See the course map below. The run will also include brief stops at four of our locations:
Uptown Youth Center
3427 4th Avenue
San Diego, CA 92103
Approx. 9:50 am
Golden Hill Youth Center
2220 Broadway
San Diego, CA 92102
Approx. 10:30 am
Mid-City Youth Center
3660 Fairmount Avenue
San Diego, CA 92105
Approx. 11:35
East County Behavioral Health Clinic
1870 Cordell Court, #101
El Cajon, CA 92020
Approx. 2:35 pm