265 Join Anniversary Celebration
265 Join Anniversary Celebration
More than 265 guests joined the celebration on March 5 marking San Diego Youth Services' 50th Anniversary. The event, presented by HMT Electric, raised $190,000 to help homeless and other vulnerable youth throughout San Diego.
Thank you to Legacy Partner Union Bank, Gold Partners US Bank, NICO Insurance Services and GKN Aerospace, and to Patron Partners Alliant, Mutual of America, Pillsbury, San Diego Mesa College, JMI Equity, Custom Logos and the Law Office of David P. Strauss.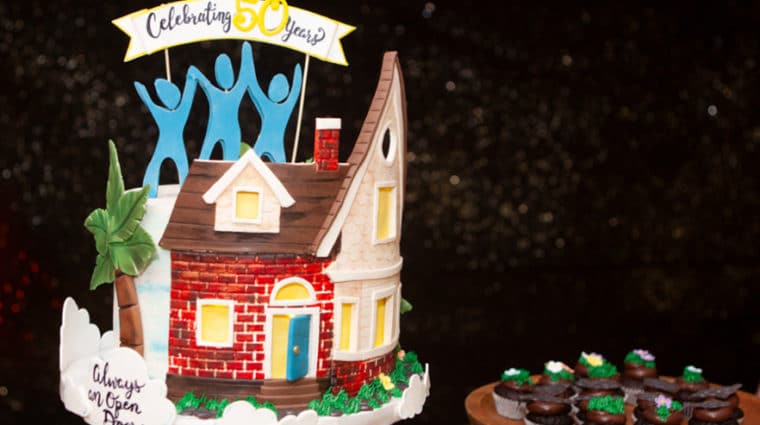 "SDYS was one of the best things that could have ever happened to me," one formerly homeless youth, Abrea Ponce, told the participants.
A trafficking survivor, Abrea received offers from all three jobs she applied for after completing job readiness training with us. She is now working full-time helping other youth experiencing homelessness. "When no one wanted me, SDYS wanted me," she said.
Since its founding in 1970 as one of the nation's first shelters for homeless youth, San Diego Youth Services has helped more than 797,000 youth across the county.
Today, the organization helps an average of almost 80 youth a day at 100+ community and school locations every year. Services range from shelter for youth experiencing homelessness to suicide prevention and recovery for youth sex trafficking survivors.
The event brought together the 50th Anniversary celebration with our annual Creations in Chocolate gala. Celebrating 50 Years! with Creations in Chocolate featured 12 of the best Pastry Chefs and Chocolatiers in San Diego. The Chefs design magnificent chocolate sculptures up to 3 feet in height and bring their best chocolate creations for guests.
CEO Walter Philips also received a surprise award for his 20 years of service leading the organization – a time of major growth in services and financial stability.
Thank you to Master of Ceremonies Allie Wagner from KUSI, our anniversary partners, our chocolatiers, the many businesses that donated to our auction, our guests and all of you who helped make not only the evening but also San Diego Youth Services a success.