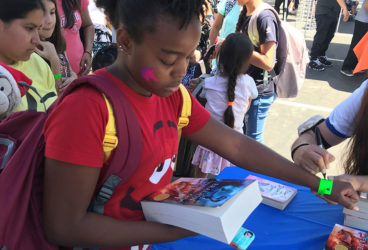 Thank you to Henry Schein Orthodontics in Carlsbad for providing backpacks, books and school supplies for 283 youth in San Diego Youth Services' Adoptions and Prevention and Early Intervention programs.
The company's annual Back to School Event on Aug. 10 included food, games, a petting zoo and crafts for the youth and their families.
Since the program's inception in 1998, Team Schein Members around the world have helped more than 50,000 children head back to school ready for success. In addition to classroom essentials, Henry Schein donates books and hygiene products, and at many program events, first-day-of-school outfits purchased by Team Schein Members.
The "Back to School" program is a flagship initiative of Henry Schein Cares, the company's global corporate social responsibility program. In 2018, Henry Schein's Back to School events took place at 30 company locations in the United States, Canada, Spain and Scotland.